Website Optimisation
Web Optimisation is the process of testing and optimising elements of your website to maximise website performance to meet predetermined goals. It allows you to find out which variation of your website works best in influencing your visitors to do what you want them to do.
Rather than relying on 'best guess' approaches or theory based estimations, you can now let your target audience decide on what is best for your website to give you the business result that you want.
Website Performance:
Website performance, as measured by KPI's, reflect business goals. For example the performance of an ecommerce store can be measured by the sales conversion KPI.
Sales Conversions = No. of Customers / Unique Visitors %
Testing methods:
The 2 testing methods for website optimisation are AB Split Testing and Multivariate Testing. AB Split testing is used when only 2 variables are involved, whereas multivariate testing is for that of more than 2 variables.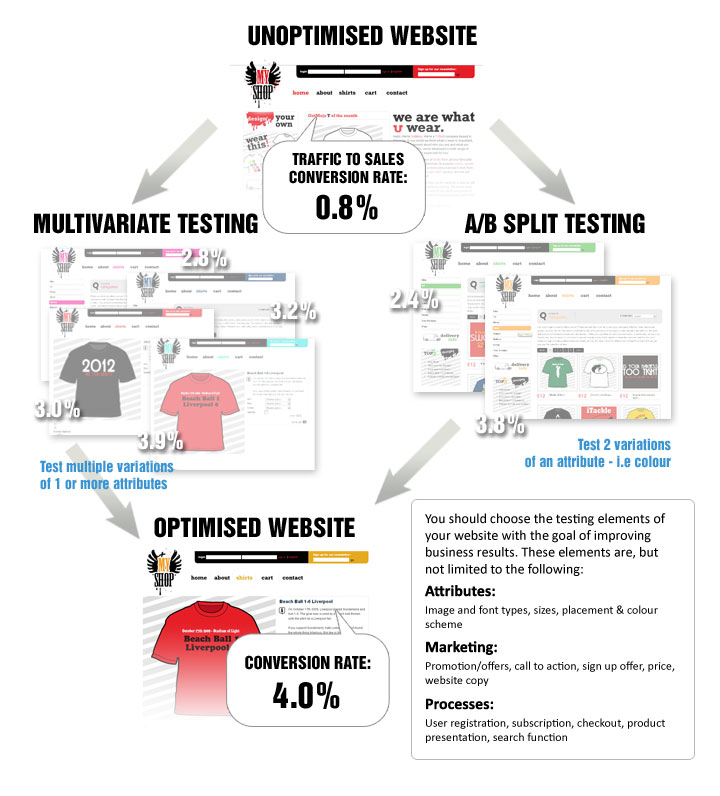 How can QuantaSense Help?
If your website has never been tested and optimised, there is a high possibility that your website is not performing to its fullest potential.
Through our Web Optimisation Service, QuantaSense can help you to:
Install a free or paid Web Optimisation Service for your website
Identify website elements* for testing that will impact business results
Establish testing goals and metrics to evaluate performance
Carry out Web Optimisation using A/B Split & Multivariate Testing
Compile and report testing results
Website Elements:*
All elements on your webpage including design attributes such as font size, layout design, colour scheme and Content such as head lines, banner graphics, marketing messages
Contact Us Today
We are confident that your business will benefit from our Web Optimisation Service. Please contact us now to discuss further.